Too Glib For His Own Good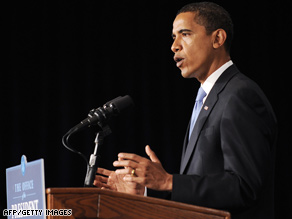 To many people (myself included), Ronald Reagan was one of the greatest Presidents of our lifetime. While their politics are completely different, President-elect Obama shares many traits with President Reagan - including charisma and an inate ability to communicate with the American people.
It was therefore more than a little bizarre to see Obama take a gratuitous shot at President Reagan's ailing widow, Nancy, during his first official press conference since winning the election.
When asked who he had spoken to in preparation for taking office, the President-elect said that he had spoken to all "living Presidents". He then added, "I didn't want to get into a Nancy Reagan thing about, you know, doing any seances". He later called her to apologize.
First, if you're going to dis somebody, get your facts straight. Nancy Reagan was supposedly into astrology. It was Mary Todd Lincoln - and to a lesser extent, Hillary Clinton - who were into channeling the departed.
Second, what a stupid thing to say! Talk about being too glib for your own good.
Unlike the Left-wing kooks who seemingly contracted "Bush Derangement Syndrome" even before President Bush took office in 2001, I hope President Obama succeeds. I personally don't want to spend the next four years rooting against America ( as many - and you know who you are - have spent the last eight ). As part of the "loyal opposition", I hope we can applaud the successes of the incoming Administration and help forestall some of the potential disasters.
In that spirit, I would respectfully suggest to President-elect Obama that glib is good - sometimes but not always.
This site uses Facebook comments to make it easier for you to contribute. If you see a comment you would like to flag for spam or abuse, click the "x" in the upper right of it. By posting, you agree to our Terms of Use.