Meet The Punk Who Hacked Sarah Palin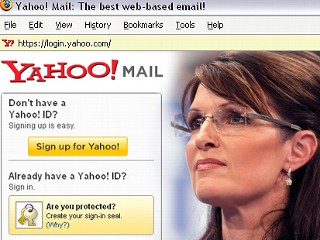 You may recall that a couple of weeks ago, Sarah Palin's personal e-mail account was hacked into. Despite the fact that doing this is a federal crime, a number of web sites thought nothing of disclosing the contents of the illegally obtained material. The Associated Press went so far as to refuse to cooperate with the government in it's investigation.
In any event, the hacker has now been caught. According to an indictment handed down yesterday by a Fedral grand jury in Knoxville, Tennessee, he's 20-year-old David Kernell. Kernell, a student at the University of Tennessee, is the son of a Democratic State Representative from Memphis named Mike Kernell .
The indictment alleges that this punk was somehow able to reset the password on Palin's personal e-mail account thereby giving him access to it's contents. The indictment further alleges that Kernell disseminated the information he subsequently obtained from the account. He also alegedly posted the new e-mail password giving others access to the account.
If convicted, Kernell faces a maximum penalty of up to five years as a guest of the Federal government in the Crossbar Hotel. He also faces a maximum fine of up to $250,000.
Later today, we'll discuss whether this was simply a harmless prank or whether young Master Kernell should be doing some hard time!
This site uses Facebook comments to make it easier for you to contribute. If you see a comment you would like to flag for spam or abuse, click the "x" in the upper right of it. By posting, you agree to our Terms of Use.