The Left Unhinged: September 20th Edition
We've got some fierce competition for today's "The Left Unhinged" awards.
The "Dumb" statement of the day goes to "comic" Sandra Bernhard. During a recent performance of her one-woman show in Washington, D.C., Bernhard opined that GOP Vice-Presidential candidate Sarah Palin wouldn't be invited to New York where she might be "gang raped by her [Bernhard's] big, black brothers." Bernhard describes this comment as part of a larger "nuanced" piece she performs about feminism.
Well, I guess we now know when some members of the radical Left think that gang rape becomes a punch line? Namely, when the subject of the hate speech is a conservative female. If this represents "nuance", I'd hate to see Ms. Bernhard's idea of inflammatory rhetoric.
The "Dumber" award for today goes to New York Congressman Charles Rangel.
In an interview, Rangel referred to Palin (the mother of a child with Downs Syndrome) as being "disabled". When asked whether he really meant to use that term, Rangel repeated it. After a firestorm of controversy, Rangel was forced to issue a statement saying that he really didn't mean to call Palin "disabled".
Just for the record, this is the same Charles Rangel who earlier this week was forced to admit that he had failed to pay taxes on tens of thousands of dollars of income he received from investment properties over the last few years. For those who might be unaware, Rangel is the Chairman of the House Ways and Means Committee - the bunch charged with writing tax laws.
Hmm. Charlie Rangel fails to pay his taxes? What word could we pick to describe that situation?
Our Dumbest" award though goes, hands down, to aging filmmaker Woody Allen. Allen, whose career probably peaked with Annie Hall in 1977, has decided to turn political pundit. In an interview with journalists in Spain, Allen said "It would be a disgrace and a humiliation if Barack Obama does not win."
Woody Allen, of course, knows all about disgrace and humiliation. This is the same guy who back in 1992 (at the age of 56) was caught having an affair with Soon-Yi Previn, the then 21-year old adopted daughter of his long-time love interest, Mia Farrow. His defense at the time? "The heart wants what the heart wants"!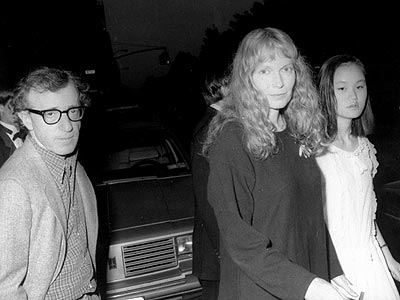 I guess Woody's heart now wants Obama to win. Regardless of what happens in November however, the idea of Woody Allen describing anyone or anything as a "disgrace" is more than a bit ironic.
This site uses Facebook comments to make it easier for you to contribute. If you see a comment you would like to flag for spam or abuse, click the "x" in the upper right of it. By posting, you agree to our Terms of Use.