1968 All Over Again
Not many people wish they were older, but I wouldn't mind it if I had been born a decade earlier.
That way, I would've been old enough to appreciate some of the momentous things that have happened to me. A little seasoning would've helped me absorb the things I had the good fortune to experience.
Take, for instance, that trip to the Soviet Union I blogged about earlier this week. I was all of 29 at the time, and really didn't have the global chops to ask all of the right questions of my Radio Moscow hosts and guests. I certainly knew that I was seeing history, and I hope we helped people back home get a better grasp of the nation we were up against in the dying days of the Cold War, but I sure wish I knew then what I know now.
I was just 11 when the U.S. went through the political, emotional and social meat-grinder that was 1968. The murders of Martin Luther King and Robert F. Kennedy were separated by mere weeks, barely giving the nation the chance to overcome one insult before the next followed. The tumultuous Democratic Convention, complete with it's Chicago "police riot" , would finish off a summer of chaos that began with the Kremlin's invasion of Czechoslovakia--the "Prague Spring."
You didn't have to be Chet Huntley or David Brinkley to know that the black-and-white footage of tanks with red stars on the side rolling rolling into a European capitol wasn't a good thing, but to an 11 year old kid in Sheboygan, it was just another case of the bad guys living down to billing. These were the same folks who had us heading for the bomb shelters six years before, so why should anyone be surprised about a little European invasion?
It's starting to feel like '68 all over again--granted, our country is being spared the bloodshed, street violence and upheaval of 40 years ago, but with Russian tanks rolling into another sovereign state this week, it seems as though the only thing that's different is that this round of oppression is being brought to us in living color.
We even have Olympic controversy: it's not U.S. track stars doing Black Power salutes on the medals stand the way it was in Mexico City in 1968.
Instead, it's the age dust-up surrounding Chinese gymnasts who allegedly don't meet Olympic age requirements. The Chinese, like the Soviets of old, have no trouble snatching talented kids from their homes at early ages and sending them to what amount to athletic factories/laboratories to hone their skills in hopes of landing future glory for the motherland. Children who maybe get to see their parents but for a few days a year. Kids who barely crack a book while spending hours on end to become national mascots for a country desperate to shake it's international inferiority complex.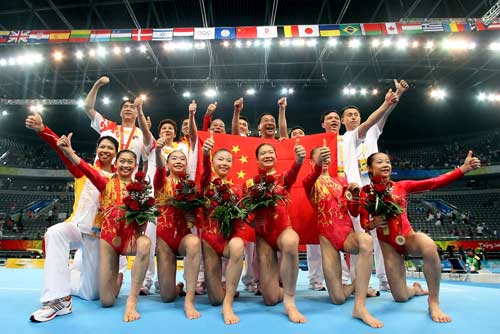 I'm not a Kremlinologist, but I know that there's more to this week's Georgian invasion than Moscow's expressed desire to support a few breakaway provinces. I don't know much about women's gymnastics, but I have enough parental experience to recognize a 16 year old girl when I see one. The "16 year olds" representing China in the Olympics seem like fifth graders, not young women on the cusp of high school.
40 years ago, and look where we are? Times change, but issues don't. The only thing that's different is that the calendar endows us with the wisdom to analyze events with older and, hopefully, wiser eyes.
The coverage isn't black and white anymore. Neither are the answers.
This site uses Facebook comments to make it easier for you to contribute. If you see a comment you would like to flag for spam or abuse, click the "x" in the upper right of it. By posting, you agree to our Terms of Use.