What Could've Been...
February 3, 2008: also known as just another Sunday.
It could've been so much more.
The Super Bowl happens later today, minus the Green Bay Packers who saw the New York Giants short-circuit their march to Arizona on a frigid night at Lambeau Field two weeks ago.
Today is full of sexy story lines, as the New England Patriots try becoming the first team since the 1972 Dolphins to run the NFL table. There's Eli Manning, trying to join his brother Peyton in adding a championship ring to his jewelry box. Do Packers fans cheer for the Patriots, hoping Tom Brady and company do what Green Bay couldn't in thwarting the Giants? Do they root for New England in it's quest to make league history?
I, for one, don't care.
To me, the moment Lawrence Tynes split the Lambeau uprights, it became hockey season. And, I invite others to join me.
It was some 20 years ago that a good buddy of mine--one who shared my past passion for the Chicago Cubs, National League baseball and Wrigley Field--first exposed me to the NHL by taking me to a Blackhawks game at the old Chicago Stadium. We sat in $5 seats, in the last row of the upper corner of the ancient barn. I went in, not knowing a hockey puck from a tuna can. I came out a fan, and I'm still learning the game.
Not there's that much to pick up on--hockey has but a handful of basic rules, but, as is the case with other sports, there are plenty of subtleties to pick up on. I found this link via Google, and highly recommend the video section to put the written rule together with real-life images.
Finding a hockey game on television could prove to be much more difficult: Versus (on Time Warner cable) has a few games, and one of Mark Cuban's high-def channels will offer up a couple of matches, too. Fox Sports North will show the odd Minnesota Wild game or two, and on weekends, there's Wisconsin Badgers hockey (the college version is great for those who don't like fighting). If you really, really get the bug, you can buy the NHL's "Center Ice" package which costs $119 but assures you of at least one regular season game a night, if not more. There's a free preview this weekend. Yes, I said, "free".
If you crave an in-person experience, there's always the Blackhawks who now cavort at Chicago's United Center just west of downtown. The Blackhawks fell on hard times the past decade or so, and a promising 2007-2008 campaign is being thwarted by a rash of injuries. Here's their website, complete with ticket information but be warned: the good seats don't come cheap.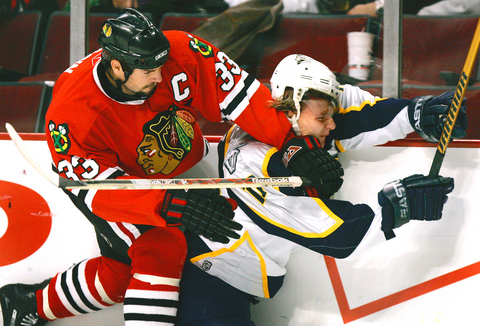 Great, affordable live hockey can be had at the Bradley Center, the home of the Milwaukee Admirals. I've been going for years, dating back to the days before Jane Pettit's building went up and the Ads did a season at Wilson Park. The quality of the hockey improved greatly over the years, with the Admirals now serving as the American Hockey League affiliate of the NHL's Nashville Predators. Tickets are priced with the working person in mind and the club pulls off some masterful promotions including pre-and-postgame concerts on selected weekends, giving you even more bang for your buck. The fans are knowledgeable and supportive when it comes to cluing in hockey newbies.
The Packers are done, football ends with tonight's final gun, and it's still two months before the Brewers are back at Miller Park. You can't work in the yard yet, and you're probably ga-ga with cabin fever. Expand your horizons. Give hockey a try, It's a fast, contact-laden game emphasizing unique skills and a few easy to grasp rules.
If nothing else, you'll learn the words to the Canadian national anthem.
This site uses Facebook comments to make it easier for you to contribute. If you see a comment you would like to flag for spam or abuse, click the "x" in the upper right of it. By posting, you agree to our Terms of Use.