RIP "Mr. Brat"
Sheboygan's signature dish--the double-brat--didn't just happen. It had to be invented.
And, the guy who gets credit for it died July 27th at the age of 86. Henry Poth was "Mr. Brat"--his license plate said so--and his southside meat market was a destination for aficionados of the local cuisine both near and far.
Poth served his country during World War II then came home to take meat cutting classes. He opened his store in 1949, one of many local markets you could find on any Sheboygan street corner. It was Poth, the Sheboygan Press says, who went to a local bakery asking it to make larger hard rolls (again, unique to the city), big enough to hold two brats at once. Genius.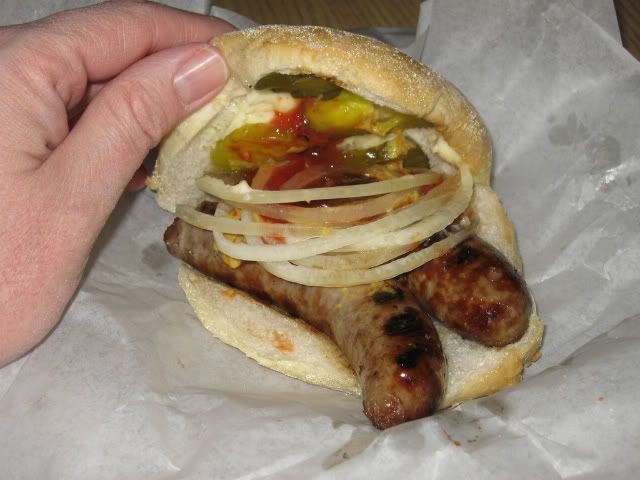 He's also credited with coming up with the "brat fry", a fundraising device used to generate cash for everything from local softball teams to church activities to school field trips. Brilliant.
Local brat loyalties were often based on geography--you supported your neighborhood grocer--but also by taste, meaning a drive to the shop that sold your favorite. When I was growing up, Johnsonville was a rural Sheboygan County operation. We know what it is today--a global sausage empire. Others would grow, too--Miesfeld's went from a funky store on a triangle corner off Calumet Drive (hence the name "Miesfeld's Triangle Market") to a much larger plant today off I-43 on the city's outskirts. Poth never went big, even after getting written up in the New York Times in the 1980's. The Press says the store was sold first to a son and then to others, the Poth brat now available only at an Oostburg Piggy Wiggly.
Sheboygan gathers starting today (Thursday) to celebrate its signature wurst: Brat Days runs through Saturday night at Kiwanis Park. Thousands will get "a double with the works" along with a cold frosty one to wash it down. There'll be music and a parade, contests and maybe even feats of strength. Through it all, I hope my hometown keeps a good thought for Mr. Brat.
This site uses Facebook comments to make it easier for you to contribute. If you see a comment you would like to flag for spam or abuse, click the "x" in the upper right of it. By posting, you agree to our Terms of Use.