A meaningless game on a meaningful night
Bad seasons mean lots of time to dwell on great baseball memories for fans who have little to hope for except next year. So it goes for 2013 Brewers fans.
We're pulling for a team decimated by injuries, failed starting pitching early in the season and a May that insured Milwaukee was out of the playoff chase by the time the Indy 500 came around. Ryan Braun's flame-out last week assured us that this would be a season for the ages, for all the wrong reasons.
Which brings this fan to June 23, 1970. Better times, even with another bad Brewers team. It was the first time a 13 year old kid from Sheboygan would lay eyes on a Major League baseball game, a fan who can still remember his senses coming alive at the first sight of a green diamond and a building with enough seats to hold everyone from his hometown, all at once. The MLB had been, up to that point, a black and white experience: we didn't have color TV or many opportunities to see games back then, what with so few Brewers contests shown locally and NBC's Saturday Game Of The Week our only visual link to the bigs.
Like this year's Brewers, the 1970 team was out of contention by Memorial Day. It's record going into that night's game against the Twins was 22-44, and anyone looking at that night's pitching matchup would've bet that it would be 22-45 come the evening's final out, what with Minnesota sending future Hall of Famer Bert Blyleven against Milwaukee's Bob Bolin.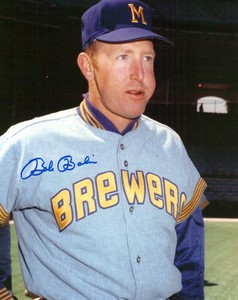 The Twins lineup was dotted with the likes of Cesar Tovar, Harmon Killebrew, Rich Reese and Leo Cardenas. The Brewers fired back with Tailwind Tommy Harper (who'd put up All Star numbers that inaugural season) and little else: Ted Kubiak, Russ Snyder, Max Alvis, Phil Roof, Dave May and Tito Francona who is best known for his son who now manages the Indians.
We sat in the lower grandstand along the first base line with 13, 500 fellow fans which wasn't bad in those early days as the team struggled at the gate. Elderly Brewers backer Milt Mason was just days from climbing atop the County Stadium scoreboard where he'd remain, living in a trailer and cheering on the local nine until 40,000 fans would show up.
He'd be there until August, but also set the template for Bernie Brewer.
Bolin would outlast Blyleven that night, leaving after seven trailing 3-2. Reliever Dave Baldwin would come on and get the "W" (check out his trippy life-after-baseball home page) as the Brewers would plate two in the ninth on a Gus Gil double. We'd all go home happy. Or should I say, happier.
A hot dog never tasted better, even though it was only a basic Oscar Meyer slathered in yellow French's. The Coke couldn't have been colder. And, you could throw your trash on the cement under your seats. It took a while for me to wrap my head around that concept.
Somewhere in my basement is my scorecard from that sacred night.
Amid years of kids clothes, Christmas decorations and other artifacts accrued over 30 years of marriage sits a crude account of that treasured night, written in pencil in a very unsteady hand (I'd never score a game before). Until I find it, Internet accounts will have to suffice. I'd do thousands in the years that would pass, many from other County Stadium seats, some from my perch at Miller Park, and a few from the press box as a member of the media or even as Robb Edwards' PA fill in. There isn't a game when I don't think of that first night, that first pencil, that first box score.
And this lost baseball season, there are plenty of chances to remember that awesome summer night in 1970. Evenings like that are what keep us coming back, regardless of win/loss records, disappointments or scandals. The green cathedral, the clinical strategy, the sound of bat on ball and the look of a crisply executed relay, nine players working as one and the hope in the stands that for one night, the home team will prevail.
It did back on June 23, 1970. I've got the scorecard to prove it.
Somewhere.
This site uses Facebook comments to make it easier for you to contribute. If you see a comment you would like to flag for spam or abuse, click the "x" in the upper right of it. By posting, you agree to our Terms of Use.