Happy and a merry, Greendale!
It took me a few looks before I realized that taggers in my neck of the woods hadn't suddenly developed much better penmanship.
I kept seeing mysterious markings at an intersection I frequent daily but never had time to linger. What was that white and green scribbling, not just at the crossroads I was using but at various other points around Greendale?
I solved the mystery this afternoon during my daily bike ride, when I had time to linger and to put 2 and 2 together.
Or 7 and 5, to be more precise.
Busy intersections throughout the village bear a simpler version of the 75th anniversary logo shown above, dotting town as Greendale gets ready to celebrate starting next Wednesday, August 7th. The bash runs through the following Sunday with balloon rides, a parade, the UW Band doing a fifth quarter celebration and weekend class reunion in the park just east of the Broad Street business district.
The first house my wife and I bought was in Greendale--just barely--at the corner of 78th and Edgerton. It was the first home our kids ever knew, the place where I turned 30 (with an epic party--the next day, my living room floor was covered with friends and relatives who were sleeping the bash off, a scene not unlike the one in "Gone With The Wind" after the burning of Atlanta). Our address was Greendale, but the zip code was Greenfield, leaving us at odds with both post offices as to the whereabouts of missing mail. We became members of the Village Club where our kids swam and learned tennis. We ate at The Steakout. Our children went to the local pre-school across from Greendale High. I drank cheap beer at Ray and Dot's.
Greendale's history is unique, the village being one of a handful of pre-planned Greenbelt communities that popped up at the government's behest in the '30's. They provided cheap housing and unique street plans with lots of park space and very few straight-shot arterials. Streets were named alphabetically, leaving Greendale divided into sections: A, B, C and so forth. Many of the boxy original homes remain near the village center, looking not unlike Monopoly game pieces.
When we lived there in the 80's Greendale village leaders were hard-pressed to invigorate the Broad Street business district. There were vacancies, complaints about high rents and worries about low traffic. Southridge went up the decade before and stole a lot of the village center's commercial thunder.
Along came Roy Reiman who spent considerable time and personal assets, turning Broad Street into a destination. Buildings were refurbished, landscaping was added and the bloom was back. New shops moved in and Reiman's Visitors Center became a tourist hot spot, especially for fans of his Country Taste of Home magazines. It's where Ricardo's Pizza continues to thrive and where the brand new Joey Gerard's is gaining traction.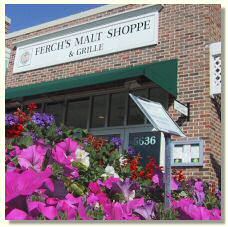 Ferch's Malt Shop was a post-game destination after my son's Little League scrapes, and a new saloon--Panther Pub--opens this week.
Congrats on 75 years, Greendale. Amid all that's happening this weekend in southeast Wisconsin, I hope you draw a crowd, not just of satisfied locals and returning high school grads. There's more to the village than just Southridge. There's nothing like it in the region.
Did I mention Ray and Dot's?
This site uses Facebook comments to make it easier for you to contribute. If you see a comment you would like to flag for spam or abuse, click the "x" in the upper right of it. By posting, you agree to our Terms of Use.