The "Golden Age" of reporting and what we saw/heard from Boston
The TV was on that afternoon when I came home from first grade for lunch, tuned to my mom's favorite soap opera, "As The World Turns."
I was pulling on my raincoat to go back to class...
It would still be on when school was over, and it lit the living room that night when The Sheboygan Press landed on the back step. I'd never seen a headline that big in my six-year old life.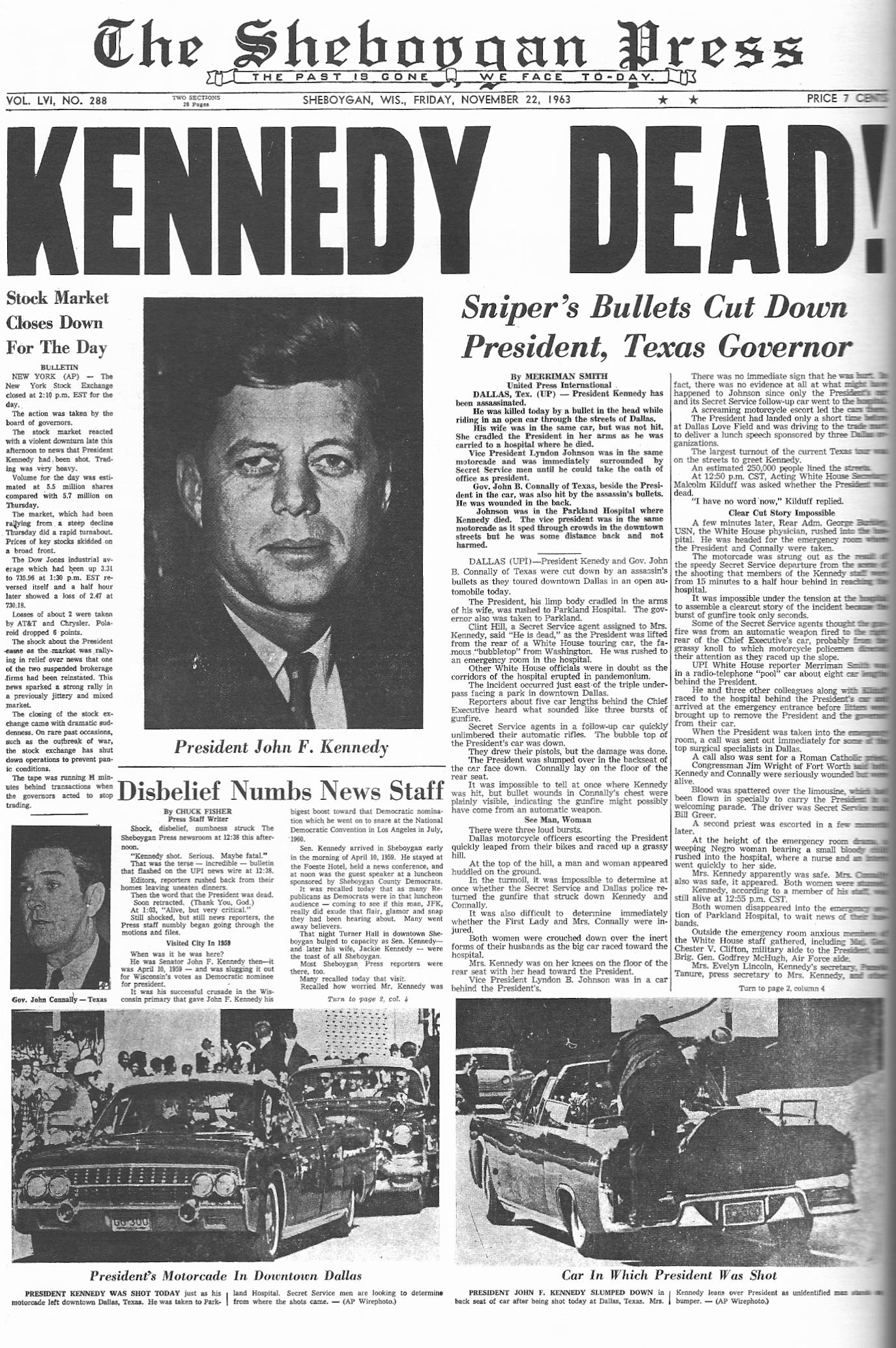 It seemed that only then, when my mom saw the tragedy in print, that she actually believed what she'd been watching all afternoon. That was the mindset among many adults in 1963--the paper was the account of record. TV was in its journalistic infancy. Kennedy's assassination is seen as the weekend when electronic reporting equalled print as a reliable source for breaking news. Some have called it "The Golden Age".
TV certainly was faster that awful autumn day. But, as was the case this April, it wasn't already right.
I'm an admitted JFK assassination freak, and I've gone back to watch a lot of the in-the-moment coverage. Walter Cronkite and his ilk got a lot of the story right and missed nary a thing despite the technological limitations of the time. They covered everything live, from the funeral to Lee Harvey Oswald's execution to JFK Jr.'s salute.
But they made mistakes.
Comedy Central's Jon Stewart is having a field day pointing out CNN"s Boston foibles.
Hoo boy.
Yet the folks in "The Golden Age" made gaffes those days in '63, too,. Dr. Scott Miller points out some of the differences and similarities between Boston and Dallas and Larry Sabato details some of the actual JFK mistakes.
Some of the Kennedy assassination misinterpretations have taken on a life of their own among conspiracy theorists who claim investigators would ignore broadcast accounts that ran contrary to the official version that blames Oswald alone, or that the networks were somehow in on a frame-up of Oswald as the only shooter. CBS's Dan Rather is often lit up for his on-air retelling of what he saw when he was among the few reporters to sit in on a showing of the now-famous Zapruder film.
Remember, no network showed the Zapruder film that weekend. It wouldn't air until the mid 70's. Rather saw it once, ran back to the Dallas studio and told the nation what he'd seen in the graphic, 30 second long home movie. His account, when you think about it, is pretty much spot-on and incredibly detailed. Yet, by referencing the "violent, forward" movement of JFK's head during the fatal shot, grassy knoll types claim that Rather is part of the cover-up. We now know that Kennedy bolted backwards in his seat, a move that conspiracy folks say proves he was shot from the front, thus proving Oswald wasn't acting alone (if at all).
There's more media now than there was in '63. We have cable, 24/7 coverage, the Internet and social media. There's more to watch and hear. And, with more product comes more opportunity to screw up. With the passage of time, there's the tendency to forget mishaps and mistakes made in the past.
There's no apologizing for sloppy, overblown and downright incorrect reporting. But misinformation can happen in the moment--a source can be bad, a witness can be wrong. They were this month in Boston, And they were a half-century ago in Dallas.
Even in "The Golden Age."
This site uses Facebook comments to make it easier for you to contribute. If you see a comment you would like to flag for spam or abuse, click the "x" in the upper right of it. By posting, you agree to our Terms of Use.