Milwaukee: you can't get there from here
It shouldn't be this hard.
Time was you could easily fly in and out of Milwaukee AND do it on the fairly cheap. Now, thanks to airline mergers and the shifting travel landscape, one Mitchell International terminal has tumbleweeds blowing through it and business travelers are beefing about how times have changed, and not for the better. Never a good thing.
Not that our town is a bargain once you're on the ground. Complaining about road construction is as cliche and tiresome as barking about mosquitos in summer but this orange-barrel season seems to be off to an exceptionally vigorous start. Again, never a good thing.
Construction-weary drivers put up with the re-do of both the Marquette and Mitchell Interchanges in the past decade or so. They're done, and they're spectacular: monuments to efficiency (both done on time) and 21st century engineering (convenient and scads safer).
Just try getting to them, though, if you drive the 94/43 corridor that links the two. It's torn up both ways and the jams are epic, at least as drivers get accustomed to new lane configurations or wise up and find other ways to go to work. Add to that the fact that the state DOT chose NOW to start the 794 fix (one thing that DIDN'T go right when they redid the Marquette) and we've had some massive commuter nightmares.
And it's only March. Toss in work on side-streets and it feels like it's impossible to get anywhere in this city, at least within a reasonable amount of time. The work has to be done--we get that--but does it have to be done all at once? Doesn't the DOT talk with local government, and vice versa, about what's getting done when and how it might impact drivers?
This takes us back to the original sin: freeways were designed to go TO cities, not THROUGH cities but some jughead decades ago had what he thought was a better idea and the Interstate system became a mass transit alternative. The result? Gridlock, constant reconstruction, flight to the suburbs, and stranded neighborhoods, not to mention the cost of maintaining a system that needs constant repair.
For we, the Milwaukee commuter, there's no end in sight. When 94/43 is done and when the 794 fix is in, there's still the Zoo Interchange to be done. Work is already underway--preliminary stuff that is a portend to the true commuter nightmare that awaits as the state's busiest freeway confluence goes under the scalpel. That one's gonna hurt. Bad.
Then there's the debate about 94 between the Zoo and downtown, particularly in the Story Park neighborhood near Miller Park. Simply put, there's too much traffic for such a narrow corridor and the options aren't pretty: no one has an appetite for disturbing Wood Cematary graves or existing homes/businesses that come with widening the interstate, but who really wants a double-deck freeway unfurled through that part of town?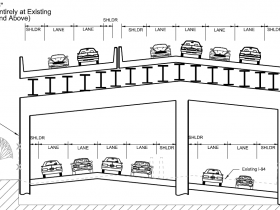 And, no matter what option is chosen, we'll all be affected when one of the area's busiest highway corridors gets redone. Oy.
No matter how slow the economy, it seems there's always plenty of work to do in the road construction business. The cynic may say it's because of the powerful lobby the industry has in Madison. The reality is: we use our freeways a lot, and they take a beating, especially in a climate that isn't particularly friendly toward asphalt.
Milwaukee--it's a great town to live in. Just don't try driving there.
This site uses Facebook comments to make it easier for you to contribute. If you see a comment you would like to flag for spam or abuse, click the "x" in the upper right of it. By posting, you agree to our Terms of Use.