The green that comes with the Green And Gold...
Took a few days off to start the new year and have left this space fallow in the interim, last using it to give a non-prediction about Wisconsin's prospects against Stanford in the Rose Bowl.
Turns out the Cardinal were who we thought they were, able to shut the Badgers down in the second half en route to handing Wisconsin it's third annual case of Pasadena heartbreak.
A new battle looms, this one in Green Bay Saturday night. The Packers host the Vikings in a game no fan should want or crave. Minnesota is a handful--witness the previous two meetings this season including Sunday's loss at the Metrodome that forced this coming weekend's issue. The Packers show no signs of stopping all-world running back Adrian Petersen who gashed them badly in both games. The difference between the first game--a Green Bay win--and the most recent clash--a narrow Minnesota victory--was the play of quarterback Christian Ponder. At Lambeau, he made mistakes. At home, he didn't. Which Ponder punches in Saturday night is the key to what we'll see on the scoreboard at game's end.
Then there's the battle in the Lambeau stands, where more and more Minnesota fans are buying up tickets and making their presence felt.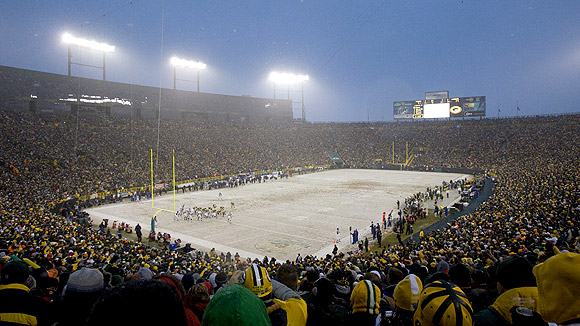 I've written many times before about Packers and Brewers fans who are all too willing to turn hot tickets into cold, hard cash. I wasn't at the first Vikings game, but heard from folks who were about the galling amount of purple in the Green Bay seats. It's the same story we used to hear in Milwaukee when the Cubs still had a pulse--Chicago fans pounced, mostly on un-sold Miller Park tickets, turning the place into Wrigley north. Then again, there were a disturbing number of Brewers season-ticket buying locals who were all too willing to turn their ducats into cash from deep-pocketed outsiders.
The Journal/Sentinel warns that Vikings fans are working the secondary market for Saturday night's clash. They have the right to do that, just as Packers season ticket holders have the option to sell. Good seats are going for hundreds of dollars, certainly enough to put a hefty dent in someone's annual football bill. Selling tickets on the web is so easy, so painless, so effortless and--most importantly--so anonymous. A Packers fan who gets called out for selling to an opponent's fan on the Internet has plausible denial and can claim they didn't know the buyer's loyalty.
Still, as a lifetime Wisconsin resident, I can't believe you couldn't find local buyers if you took the trouble to hustle a few local bars, even for the coldest or most inconvenient of games. A Packers ticket is a brick of potential gold to one who owns it. It's also an opportunity for the many Packers fans who maybe has never seen a game at Lambeau, a rare chance to see a venue where the waiting list is the stuff of legend.
It's a free market. I get that. Supply and demand. Toss in the web, and commerce is inevitably going to commence. It would be nice, though, if Packers fans who have seats to sell put a little more effort into seeing to it that the buyers were of similar loyalties. There's nothing more galling than seeing Minnesota fans taking away the home field advantage. I know--it's fun to hear "Go Pack Go" chants when our team is on the road. I realize I want it both ways.
I just don't ever want to hear an a-cappella version of "Skol Vikings" being sung en masse in the Lambeau stands after a Minnesota score. The very thought makes a little stuff come up the back of my throat.
This site uses Facebook comments to make it easier for you to contribute. If you see a comment you would like to flag for spam or abuse, click the "x" in the upper right of it. By posting, you agree to our Terms of Use.