Uneasy rests the head attached to the foot that kicks the ball...
Mason Crosby has the yips.
What's more uncertain--a Mayan forecast of the end of times, or the reliability of even the most automatic of NFL placekickers?
Crosby is launching field goal tries that look like my tee shots--straight for about the first ten yards before acquiring a mind and trajectory all their own, landing in another area code. Crosby is, by all accounts, a great guy and good citizen which makes it all the more painful to watch him line up week after week and fail more often than we're accustomed to.
Green Bay has been blessed with some great kickers over the years--Crosby the most recent, preceded by Ryan Longwell, Chris Jacke, Jan Stenerud, and Chester Marcol. In between, though, came some forgettable names and really dreadful performances. By my count, 26 guys have held the job during my years following the team. That's roughly one new kicker every other season.
Even Vince Lombardi wasn't immune from kicking woes. He had Paul Hornung but the Golden Boy got suspended in 1962 (Jerry Kramer took over) and then lost his stuff in '64, prompting the legendary coach to go to Plan C, as in Chandler: Don Chandler, the former New York Giant who steadied that part of the Packers game through the rest of Lombardi's Green Bay stay.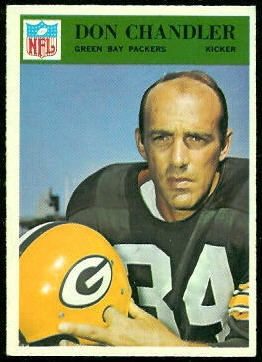 Then it got bad. Really bad.
Remember Errol Mann? How about Mike Mercer, Booth Lusteg, Dale Livingston, Lou Michaels, Dave Conway or Tim Webster? That's how many kickers Phil Bengtsen and Dan Devine went through after Chandler's departure before Devine drafted Marcol. The Polish Prince was a bona fide weapon, targeted by opposing special teams who sought to put him out of action. Injuries and drugs cut his career short, though, and Marcol was gone in 1980. The Pack wrung a few seasons out of legendary Jan Stenerud but after him, it was open mike night again.
Eddie Garcia and Al Del Grecco were serviceable. Max Zendejas, Curtis Burrow, Dale Dawson, and Dean Dorsey? Not so much.
Enter Chris Jacke and roughly eight seasons of reliability. Ryan Longwell continued the tranquility with Dave Raynor serving as a one-season bridge before Crosby's '07 arrival.
Then came 2012. Cue the yips.
Coach Mike McCarthy's loyalty is laudable but at what point will it cost Green Bay a game? McCarthy denies it, but some of the decisions made during Sunday's win at Chicago suggest Crosby's inconsistency is changing the way the Coach is making fourth down decisions. Never a good thing.
Is Crosby trash? Maybe, but maybe not. Bigger football minds than mine say there's room on the roster for two kickers, one to take over for now as Crosby mends between the ears and preps for a fresh start next season. Not a bad idea.
McCarthy will have to man-up and take full blame if the Pack's playoff run ends with a kick sailing wide right,or with the sound of pigskin hitting upright, or worse, having to go for it because a mid-to-long-range field goal is no longer a weapon in his arsenal.
This site uses Facebook comments to make it easier for you to contribute. If you see a comment you would like to flag for spam or abuse, click the "x" in the upper right of it. By posting, you agree to our Terms of Use.