Hawkeye on his ankle, Madison in his rear view mirror: Bret Bielema bolts UW for Arkansas
He coached the game of his Wisconsin life Saturday night as the Badgers shredded Nebraska to win the Big Ten Championship and a third straight Rose Bowl berth.
Maybe it was Bret Bielema's audition.
The last of the confetti is still being swept up at Lucas Oil Stadium in Indianapolis as Bielema packs his bags for Arkansas and a hefty pay raise. If the job he did in Madison didn't endear him to Wisconsin fans, he sure didn't make any new ones bolting the way he did.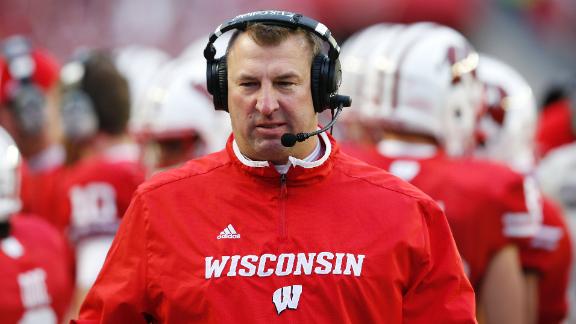 His departure--reportedly learned by his players via Twitter and outside news accounts and not from the man himself--also leaves the team in a New Year's Day bind: Bielema supposedly wants to be on the sidelines when Wisconsin duels Stanford in the Rose Bowl but the school is understandably, well, Bucky: there's even talk as of this writing that A-D Barry Alvarez may don the head set in Pasadena that day.
And then, the story will have come full circle, with Barry the Late taking the reigns once again as the man he hand picked to take his place gets as far out of the Alvarez shadow as possible without crossing into that foreign land known as...Texas.
Bielema won his share of games, but not enough big ones for many in the fan base. That would include the past two Rose Bowls where the conventional wisdom is that a little more grey matter from the sidelines might've meant better results on the scoreboard. That they're back for a third straight trip is a matter of Wisconsin's good fortune Saturday night in Indiana and the bad fortune of two better qualified teams months and years before, but this is not the time to dwell on the past mistakes at Columbus and Happy Valley.
This is the time for a clear head and an honest assessment about where college football is today: it's a business, and decisions like Bielema's are made thusly. That stuff about being loyal to the kids you recruited? That's so Red Grange. Then again, a capable athlete has no qualms about leaving school early for the big pay day so that true-blue stuff has also gone the way of the flying wedge. Some laud Bielema for getting out of Madison when he did, the argument being that he'd over-accomplished at a school that has no right going to three straight Rose Bowls.
The dissolution of conferences and the death of longtime rivalries isn't about improving the sport you follow--it's about money, plain and simple, cash that doesn't just bloat the coffers of university athletic departments. Those dollars go elsewhere on campus, and you can't say too much about what a winning program does to enrollment. Marquette and Wisconsin both benefited from their respective sports renaissance.
Bielema recruited well and kept Wisconsin competitive while working in the shadow of a living legend. This year's 8-5 letdown is tempered by a back-in trip to California on the first day of the new year, one that will dawn with Bret in the Ozarks.
And Wisconsin, hopefully, reaching for some stars to fill his shoes. This is Bucky's cue to take that next big step, and make a hire that could bring Wisconsin a national football championship. As Joe Panos said, "Why not Wisconsin?" Under the most recent regime, fans had an inkling as to the answer.
This could be the start of something bigger.
This site uses Facebook comments to make it easier for you to contribute. If you see a comment you would like to flag for spam or abuse, click the "x" in the upper right of it. By posting, you agree to our Terms of Use.