$75 for a box of Twinkies? Supply and demand in the digital age
Scarcity + EBay = instant news sidebar.
No one should be surprised that boxes of Twinkies are now being sold on EBay for ridiculously high prices. One box at the top of my early Saturday morning search was going for $75. That's $7.50 a piece. You can see if that's changed for yourself, or make a bid of your own, if you're so inclined.
I won't be joining you.
Can't remember when I had my last Twinkie, but I'm guessing it might've been when we still had young kids. They occasionally would make their way into our home, but not very often since my wife was a fan of healthier fare. My mom wasn't, though, and Hostess products were a daily part of my school lunch (I especially loved the chocolate cupcakes with the funky white swirl).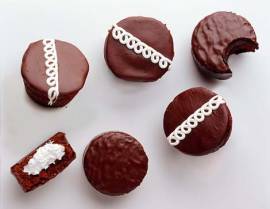 Dem's eats!
Sad as it is to hear of Hostess' demise, it's not surprising. We've heard for years about the company's struggles, of the concessions it kept asking for from its workforce, about the changing American palate and its switch from cream-filled decadence to nuts/grains/granola (tell THAT to the hoards clearing shelves of Hostess products Friday morning). Nothing like a little scarcity to bolster sales.
I'm not picking sides in this high-profile fight between labor and management. It's too easy to blame the company's ills on what some will say was bad management or what others will blame on entrenched unions. The bottom line is: the customer loses.
And so does "comfort food", which comes in three phases: the stuff only found at home, something off the menu at your favorite restaurant and that which you can buy.
I can make one or two of my mom's old recipes--"forgotten roast" was in the oven the other night. Everyone has what qualifies as "MY place" for ribs, pizza, etc. And a lot of us probably would list Twinkies as one of our store-bought childhood comfort foods: one taste, and you're back at that very same cafeteria lunch table you shared with the same group of friends each and every weekday lunch hour as you traded gossip, played sheepshead or (on very rare occasions) crammed for an afternoon test. They say aroma is the sense that most quickly rouses memories, but there's a very strong case to be made for the taste bud, too.
Chef Boyardee does it for me.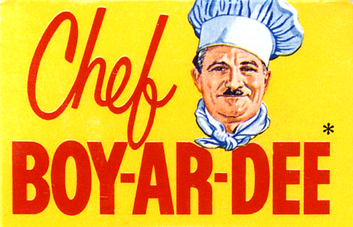 ...as does Dinty Moore.
I lived on both as I grew up--the Chef's spaghetti & meat balls, ravioli and boxed pizza was what passed for fine Italian cuisine in my eyes. And I probably kept Hormel stock soaring in the 60's and 70's with my personal beef stew consumption.
Both are still on grocery store shelves, but the same may not be true of the Twinkie, at least not for now.
Taste, no matter how good or bad, is timeless and demand is a great incentive for someone, somewhere, to pilfer Hostess' recipes and keep the flow of mediocre baked goods flowing. The list of companies who might swoop in is growing, and it would seem to be only a matter of time before Twinkies aren't being offered up on EBay like rare autographed sports artifacts.
Gotta hate harsh economic realities and the ramifications of strained labor relations.
Gotta love supply and demand.
This site uses Facebook comments to make it easier for you to contribute. If you see a comment you would like to flag for spam or abuse, click the "x" in the upper right of it. By posting, you agree to our Terms of Use.