Paul Ryan generates cheers--and tears from Governor Scott Walker--at the convention
Did Paul Ryan hit all the notes he needed to with his Wednesday night acceptance speech at the Republican Convention?
I'll leave that to the professional talking heads and pundits.
His personal story, though, moved people on the convention floor including Governor Scott Walker who was seen with a tear rolling down his cheek as Ryan spoke of his family.
The Huffington Post says Walker wasn't the only one getting a little verklempt.
Regardless of your political lean, these are incredible times for Wisconsin's national political profile Has it ever been higher or brighter? Sure, we gave the nation LaFollette, McCarthy, Proxmire, Laird, Aspin, Rehnquist and Thompson but never have we put a person on a national party's ticket. Or, had one of our own calling that party's shots. There was a time when we were thrilled if someone from our congressional delegation got to give the rebuttal after a weekly presidential address or the occasional State of the Union rejoinder, or got a seat on Sunday morning's "Meet The Press".
Now look at us.
Wisconsin is a PLAYER. One of our own heads the Republican National Committee and is banging the gavel at this week's convention. Another is the vice-presidential nominee. Our governor is a party superstar and his talk this week did nothing to take the lustre off his national star.
Now, if our delegation--with the best seats in the house in Tampa--could only lose the foamy cheese headwear.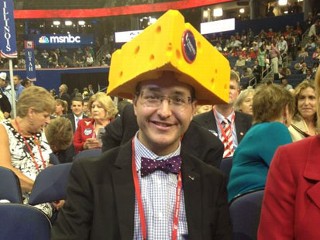 Played. Sooooo played.
This site uses Facebook comments to make it easier for you to contribute. If you see a comment you would like to flag for spam or abuse, click the "x" in the upper right of it. By posting, you agree to our Terms of Use.