Uncle Lar'
Some kids want to be firefighters or cops. Some of my buddies hoped to become astronauts or pro athletes.
Me? I wanted to be a disc jockey.
Not just any DJ, either. I wanted to be Larry Lujack.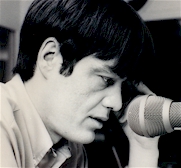 My idol bounced back and forth between a pair of Chicago radio stations, WLS and WCFL during the glory days of AM Top 40 radio in the late 60's and early 70's. Both were AM stations with strong signals, but it still took some doing to get them in all the way up in Sheboygan. Radios had to be turned in the right direction. Bursts of static had to be tolerated, especially on summer nights when thunderstorms roiled in the Midwest. You had to buy the 45 if you wanted to hear "The Night Chicago Died" and the other hits of the day unencumbered by atmospherics. Then again, considering how awful some of the music of my era was, maybe the ionosphere was doing us all a favor.
But I digress.
Lujack was the anti-disc jockey.jive-free, he often made fun of the station contests and promotions other announcers would breathlessly hype. He pulled the curtain back and let listeners look inside the goofiness that was 1970's Top 40 radio. Lujack's shows were full of pregnant pauses and "dead air". He was the opposite of smooth and polished, and it made him different. Lujack was honest. He was cool. And, he was what I wanted to be as I cut my teeth in radio at my high school's ten-watt radio station. I dressed like Lujack. I talked like Lujack. I even dubbed myself "Superjock", just as Lujack did.
Yep. I was a goof.
I'd end up playing the hits part time on the local Sheboygan radio station, then take my feeble skills to UW/Stevens Point where upper classmen at the campus outlet let me know that I'd be much better off writing news. So ended my dream of being the next Lujack.
"Uncle Lar" kept playin' the hits, though, into the late 80's. .
Lujack called it a career on August 28th, 1987 at the ripe old age of....47 He was apparently tired of the radio game, the grind of the early shift. And, he was still hurting over the accidental death of his 22 year old son. Could Lujack have stayed on? Didn't matter, because he didn't want to, and I don't think my idol could fake it if he tried.
Lujack popped up on occasion to do flashback appearances on 'LS over the years, occasions when the station ditched it's news-talk format to return to it's glory days as one of the nation's premier Top 40 outlets. Then, he heads back to his home in the New Mexico desert.
Some kids had heroes who saved lives, scored championship-securing touchdowns or stroked game-winning home runs. Mine made the world safe for folks like the Bee Gees, Pilot, Andy Kim and others to thrive.
He also was among the first folks on the radio--at least in that era--to show that genuine, honest personality free of hype and jive could draw quite a crowd. It's a lesson this baby disc jockey tried to remember as tried so hard to be like Uncle Lar'.
There was only one Superjock, and he hung up the headphones 25 years ago today.
There won't be another.
This site uses Facebook comments to make it easier for you to contribute. If you see a comment you would like to flag for spam or abuse, click the "x" in the upper right of it. By posting, you agree to our Terms of Use.