David Clarke, not to be confused with Andy Taylor
Milwaukee isn't Mayberry.
Anyone confusing the two need only look at the recent dust-up between Sheriff David Clarke and County Supervisor John Weishan.
At issue: protecting dignitaries. Media types raised questions when Clarke's deputies were seen at Sunday night's Romney/Ryan rally, wondering why they were available for duty when the Sheriff said he didn't have such resources months ago when President Obama came to town.
Clarke claimed budget restrictions kept him from giving the Commander in Chief the scale of protection he'd usually gotten, and issued a release after the Sunday rally saying the media questions injected politics into the situation and that discussion of such issues put protectees at risk.
That's when Weishan came along, claiming the Sheriff is playing politics while "trying to enhance his profile with conservatives in Waukesha county instead of tending to the needs of Milwaukee County."
Clarke responded. With a howitzer.
Calling the supervisor "a partisan hack" who "pulled his head out of his ass to say something stupid", the Sheriff said that "the next time little boy Weishan says something intelligent or accurate will be the first. This is the same idiot who recently diminished the danger of law enforcement work several weeks before one of my offices lost his life in the line of duty. He would do Milwaukee County good by crawling back into his hole."
Not exactly the Andy Taylor approach.
I like my law-people strong, silent and articulate. The person with the badge, after all, is supposed to be the cooler head no matter what the situation. Yes, there already was bad blood between these two but really, Sheriff Clarke, did you have to go this low?
The fictional Mayberry sheriff had a way of proving doubters wrong with common sense and down-home logic, acting like the bumpkin while showing, by the time the credits rolled, that he was the smartest guy in the room. Kinda makes you wonder what Sheriff Clarke would respond the first time Ernest T. Bass heaved a rock through the courthouse window.
Set tasers to "vaporize", me thinks.
Clarke has his fans--tweeters and texters told Today's TMJ4 they liked Clarke's tough approach and tougher talk.
It's not 1962 anymore, and life doesn't play out in 30 minute bursts of black and white. Milwaukee isn't Mayberry, and Sheriff Taylor and Deputy Fife never had to worry about a presidential detail. Andy's biggest concern was staving off that Darling girl who had the hots for him.
That, and the fact Mayberry and it's denizens don't exist.
That doesn't mean we can't borrow from our small-screen predecessors and others who prove that a good way to defuse your detractors is to kill them with kindness. Or at least maintain dignity.
I think another Mayberry resident put it best.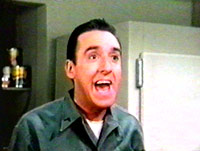 Shame, shame, shame.
This site uses Facebook comments to make it easier for you to contribute. If you see a comment you would like to flag for spam or abuse, click the "x" in the upper right of it. By posting, you agree to our Terms of Use.