Dora The Who?
Erik Bilstad did a fine piece for us today on "Wisconsin's Morning News" about Dora The Explorer turning ten years old this coming weekend. It's obvious that Erik knows of what he speaks, what with two young children at home who are no doubt big fans. And, as a parent, you see what your kids see, so you become fluent in their television choices as well.
Truth be known, I wouldn't know Dora if she was exploring my backyard.
Dora came to be long after my kids aged off children's fare on the tube. They grew up in the era of "Carmen San Diego" and "Wishbone", among other PBS fare. I could tell you what times those shows were on, the plots, the characters, and even subtle cast changes back in the day when my kids were avid viewers. Their tastes became more, what shall we say, sophisticated as time went by. That, plus peer pressure ("Why are you watching THAT? That's a KID show!") hastened the end of their childhood viewing patterns.
At least their favorites were in color.
I grew up in Sheboygan with six channels (three from Green Bay and three from Milwaukee), a bucky RCA television that needed 45 seconds to warm up and the occasional vacuum tube replacement to keep the picture from rolling. Saturday morning was the one and only time I had control of the set (notice I didn't say "remote", because they didn't exist yet). Mom and Dad were sleeping and my sister wouldn't rise until noon so I was free to indulge in the likes of Sky King and Shari Lewis and Lamb Chop (the sock puppet appeared at the Wisconsin State Fair this year , the mantle now passed to Lewis' daughter).
Whole channels are now devoted to kids, but when I grew up we'd get maybe an hour a weekday. My life was bookended by Channel 6's "Cartoon Alley" with Albert the Alley Cat and Barbara Becker each morning,
...and by "Colonel Caboose" on Green Bay's Channel 2.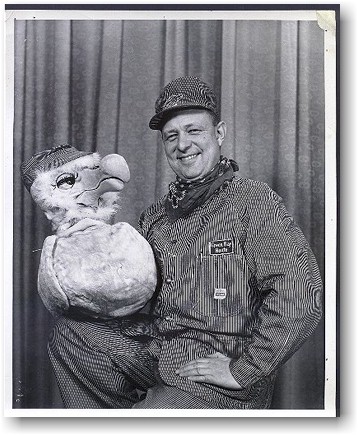 I'd actually be lucky enough to talk to Barbara Becker while I worked at WKTI and had the chance to thank her for supplying me with a steady stream of Popeye cartoons all those wintry pre-school mornings in the 60's. And, we also had a chance to chat with Jack DuBlon, the immensely talented man who brought Albert and all of his friends to life. DuBlon parlayed Albert's popularity into a bit of television history as 6 made the alley cat part of it's news team, putting the feline at the elbow of weather-caster Ward Allen. Purists derided it, but it was what marketing people would later deem ingenious "branding " that made 6 stick out from the pack at a time when television was far less cluttered and much less researched.
Happy 10th birthday, Dora, whoever you are. There no doubt will come a time 50 years or so from now when someone will write a blog, reminiscing about the days when you were part of their childhood lives. It'll be a compliment to your creators and all of the folks who brought you to life and made you someone that a kid could not only laugh with but also trust. More importantly, you'll be remembered as someone a parent could leave their child with for an hour or so, knowing that the kid they got back would be a happier and perhaps even smarter little person for the experience.
Just like Shari, The Colonel, Albert and Barbara did for me.
This site uses Facebook comments to make it easier for you to contribute. If you see a comment you would like to flag for spam or abuse, click the "x" in the upper right of it. By posting, you agree to our Terms of Use.