Bill Bennett: Cain Must Address Charges
Tough hit for the Cainster from the author of the "Book of Values," and the new bestseller, 'The Book of Man."
CNN) -- When I became one of Bill Clinton's earliest and chief accusers for the sexual harassment charges against him, two things were eminently true about my motives: (a) I did not become an accuser because Bill Clinton was a Democrat and I was a Republican, I didn't care one whit what the partisan fallout would be; and (b) I spoke out because the charges were plentiful enough and serious enough (I repeat, charges, not facts) to degrade not only all of our politics but all of our country, and because there are certain codes of honor, written and unwritten, for all men, Democrat and Republican. Indeed I wrote a book on this, laying it out, even before we knew the full extent of Bill Clinton's lies.
It is hypocritical in the extreme for those members of the media who didn't take the charges and allegations against Bill Clinton seriously to be taking the allegations against Herman Cain that we now have as seriously as they are. Hypocritical is probably too soft a word, frankly.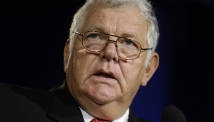 William Bennett
That said, Herman Cain and his campaign chief of staff, Mark Block, cannot go on as they have. There has been a pattern now that is both unhealthy for our politics and unhealthy for our polity.
Four women are not an insignificant number. One or two anonymous charges, perhaps. Three anonymous charges (where, as I understand the story, Cain knows of at least two of the women) plus one woman who went very public and opened herself up to all manner of investigation are a lot. It is no longer insignificant. Neither is it insignificant that the Cain campaign discounted the charges in the initial stories, saying they were based on anonymous sources, only to make a mockery by blaming other campaigns with less substantiation than the original stories.
If Herman Cain wants to be taken seriously as a public advocate for anything, never mind running for the chief executive and commander in chief of the most powerful and important and blessed country in the world, he needs to give a full press conference dedicated exclusively to this issue and these allegations.
This site uses Facebook comments to make it easier for you to contribute. If you see a comment you would like to flag for spam or abuse, click the "x" in the upper right of it. By posting, you agree to our Terms of Use.