SUPER!
Welcome to Mr. Rodgers neighborhood. Via ESPN.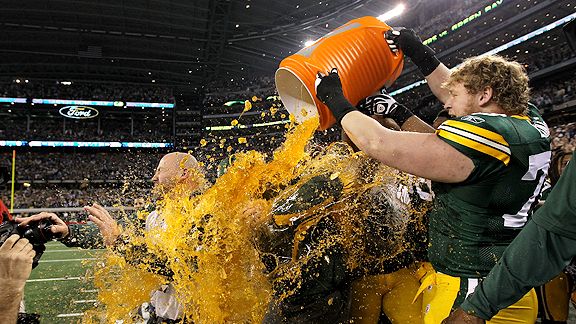 Al Bello/Getty Images
ARLINGTON, Texas -- Revenge? Nah. Aaron Rodgers doesn't believe in that anymore.
More like celebration. Vindication. Separation.
Thanks to the Green Bay Packers' manicure-killing 31-25 victory in Super Bowl XLV on Sunday evening, Rodgers won a muscle car, a trip to Disney World and his very own era. And he wouldn't admit it, but he also won first place in the crash diet contest.
In one game's time, Rodgers lost all the weight that comes duct-taped to the shoulder pads of a Packers quarterback. You could almost see his posture instantly improve. If nothing else, his postgame smile was as wide as one of the Cowboys Stadium end zones.
Rodgers stuck it to each of those 23 NFL teams that ignored him on the longest day of his life: April 23, 2005, when the Packers chose him with the 24th pick of the draft. He says it turned out to be the best day of his life, but sorry, here's guessing Feb. 6, 2011 -- when Rodgers' Packers beat the Pittsburgh Steelers -- just moved ahead.
Do you know what it's like to hold your breath for nearly six years, just waiting for an MVP night like the one Rodgers had Sunday? You could hear him exhale from here to Green Bay.
**
Good read on Charles Woodson....
ARLINGTON, Texas -- One look at the X-ray was all it took. Charles Woodson turned away and sobbed. The fracture in his left collarbone was clear as day. His season was done at halftime of Super Bowl XLV.

Woodson emerged this season as the Green Bay Packers' spiritual leader, and so through his tears he felt compelled to address his teammates before the third quarter began. He stood up and began to speak.
l
"I just asked the guys to understand how much I wanted it," Woodson said.

"That's all he could get out," linebacker Desmond Bishop said. "He was all choked up, and there was just something about it that motivated all of us."
This site uses Facebook comments to make it easier for you to contribute. If you see a comment you would like to flag for spam or abuse, click the "x" in the upper right of it. By posting, you agree to our Terms of Use.